Artists & Designers

Anderson Design Group
Ann Guerri
Ed Anderson
Endless Summer
Lake Art
Lakebound
Marty Mummert
Shelle Lindholm

Brick/Ghost Signs

Vintage Signs

Automotive
Bar & Billiards
Beach
Boating & Watersports
Cabin & Lodge
Farm
Fishing
Food & Drink
Golf
Hawaiiana
Holidays & Celebrations
Hunting
International
Kids
Lake
Planes & Trains
Small Barfly
Sports
This-N-That
Western
Wintersports

Barrel Ends

Cut-Ups

Automotive
Beach/Water
Boating
Fruit
Lodge
Paddles
Pennants
Professionals
Sports
Tavern & Cafe
Western
Winter

Corrugated

America

Cities & Parks
Flags
State Postcards

Matchbook Signs

Bar
Beach/Pool
Boating
Businesses
Food & Drink
Golf
Hawaiiana
Holiday
Kitchen
Lodge/Fishing/Hunting
Musicians
Pets
Ski
Sports
Trains/Planes/Cars
Western
Zodiac

Pillows

Ann Guerri
Beach
Boating
Hawaii
Lake
Lodge
Shelle Lindholm Pillows
Ski
States
Western

The Abbie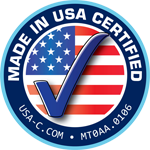 What is New and News at Meissenburg Designs
MARTY MUMMERT SIGNS AND DESIGNS

Take a look at the new signs from Marty Mummert. Marty's been busy hand-painting designs and signs that we now have available in a variety of sizes and styles. A few are listed here. Check out the others on our About Us page where we always list our New Signs and Images, or on Marty's page under Artists & Designers / Marty Mummert listed on the left.
Old Ghost Signs - Vintage Images on Brick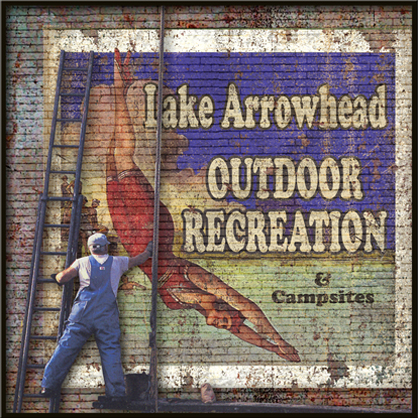 We've created a new line of signs to look like old fading vintage advertisements painted on brick walls. Often referred to as Ghost Signs, this historic form of art seems to be fading from our lives. Relive the past with our very own Ghost Signs - vintage images on a brick material with a black wood frame.
Our team, including Loyd and Laura, worked hard transforming the bare walls of our new Denver showroom into a magnificent gallery of our signs in record time. Their hardwork was recognized with a Blue Ribbon for the BEST PERMANENT SHOWROOM over 1000 square feet.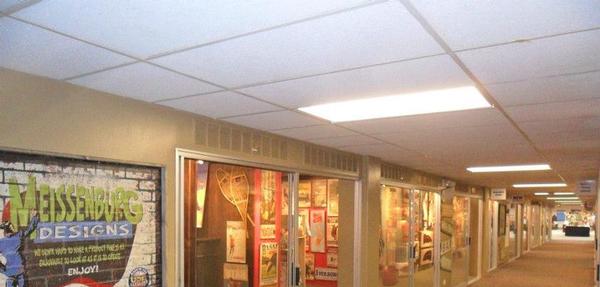 We have captured the fun and fabulous designs of Ann Guerri on indoor/outdoor aluminum signs and vinyl pillows.

Ann Guerri loves to express her joy for the world around her through art. She grew up with a passion for self-expression channeled through drawing, creating, and designing. Ann became a principal designer for her own line of coordinated fashion separates in Los Angeles before moving to Italy. There, in a six centuries old farmhouse, she studied art using traditional paints, finishes, and textures. In particular, her fascination with fresco painting led her to develop her own version of the medium.
Returning to the US, she spent the next eighteen years in Whitefish, Montana, designing signature furniture, cabinetry, art panels and decor for some of the area's most spectacular homes.
Ann works principally in her fresco technique, but also enjoys oils and pastels. Her images have a graphic quality, her colors layered and complex. She has shown at the Charlie Russell exhibition, the Western Design Conference, and various galleries throughout the Rockies.
She recently moved to Redding, California where she enjoys her freedom, her art, and the sunshine.