Vintage Signs

Automotive
Bar & Billiards
Beach & Pool
Boating & Watersports
Cabin & Lodge
Farm & Garden
Fishing
Food & Drink
Golf
Hawaiiana
Holidays & Celebrations
Hunting
International
Kids
Lake
Planes & Trains
Small Barfly
Sports
This-N-That
Western
Wintersports

Artists & Designers

Anderson Design Group
Ann Guerri
Ed Anderson
Endless Summer
Fishaye Trading
Lake Art
Lakebound
Marty Mummert
Mason Maloof Designs
M. Field
Monte Dolack
Shelle Lindholm

Harley-Davidson®

Pillows

Ann Guerri
Beach
Boating
Hawaii
Lake
Lodge
Shelle Lindholm Pillows
Ski
States
Western

Barrel Ends
Corrugated

Cut-Ups

Automotive
Beach/Water
Boating
Fruit
Lodge
Luggage Tags
Paddles
Pennants
Professionals
Sports
Tavern & Cafe
Western
Winter

Brick/Ghost Signs

America

Cities & Parks
Flags
National Parks
Sentimental State
State Postcards

Matchbook Signs

Bar
Beach/Pool
Boating
Businesses
Food & Drink
Golf
Hawaiiana
Holiday
Kitchen
Lodge/Fishing/Hunting
Musicians
Pets
Ski
Sports
Trains/Planes/Cars
Western
Zodiac

The Abbie


What is New and News at Meissenburg Designs
Meissenburg Designs on TV
Meissenburg Designs was just recently featured on a television program from PBS and the Univeristy of Montana. The program featured completely Made in Montana businesses. See the video below for the portion on us.

Meissenburg Designs & Harley-Davidson®
Meissenburg Designs is proud to annouce a new licensing partnership with Harley-Davidson®! As of August 2014 we are able to provide amazing new Harley-Davidson artwork in the Meissenburg Designs style to all of our customers and new Harley-Davidson Dealerships. You can find all of the new signs in the Harley-Davidson catagory on the left of the page!

New Rep Group for MN, ND, SD, IA and WI

We have hired Gift Street (principal Joe Hertig) to service our accounts in Minnesota, North Dakota, South Dakota, Iowa and Wisconsin! We are very excited about this new partnership! Please feel free to contact them directly for ordering via phone at 952.945.0705, via email at joe@giftstreet.com, or visit their showroom at the Minneapolis Mart 10301 Bren Road West #B-149, Minnetonka, MN 55343.

The next Gift Show is August 8th – 12th!
Meissenburg Hires National Sales Manager: Jana Cardiff


Jana joins the team with over 25 years in sales and management in the gift industry. She has won many achievement awards, and prides herself on building relationships with sales reps, retailers, and vendors in the industry.
New for 2014: Ed Anderson and Fishaye Trading Company!

ED ANDERSON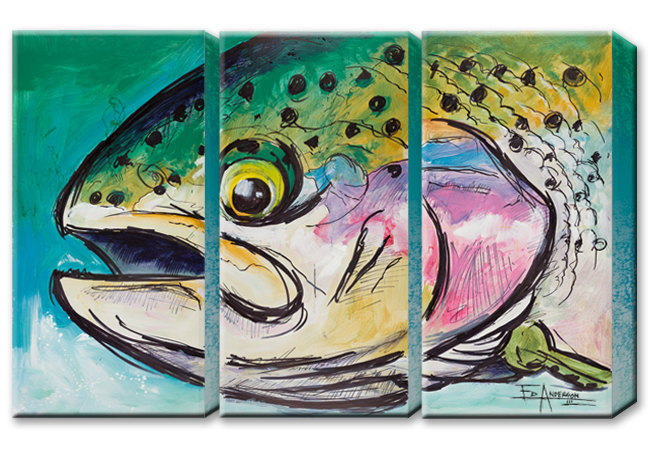 Meissenburg Designs welcomes the artist Ed Anderson to its team. Ed's home and studio are in Bosie, Idaho. Most of his compositions are "line driven." This borrows from Ed's architechtural training and costant journaling. His works span the country and are constantly describing all things americana. The original work is almost always large scale and uses a bright palate.
FISHEYE TRADING COMPANY
Using a formula known as "Gyotaku" (fish rubbing), Captain John Doherty started painting fish on the deck of his boat. His whimsical fish took on their own personalities resuting in unique peices of art. Combined with our graphics, these new signs are created with the fish-lover in mind.
Our team, including Loyd and Laura, worked hard transforming the bare walls of our new Denver showroom into a magnificent gallery of our signs in record time. Their hardwork was recognized with a Blue Ribbon for the BEST PERMANENT SHOWROOM over 1000 square feet.