Vintage Signs

Automotive
Bar & Billiards
Beach & Pool
Boating & Watersports
Cabin & Lodge
Desert Eagle
Farm & Garden
Fishing
Food & Drink
Golf
Hawaiiana
Holidays & Celebrations
Hunting
International
Kids
Lake
Planes & Trains
Small Barfly
Sports
This-N-That
Western
Wintersports

Artists & Designers

Anderson Design Group
Ann Guerri
Ed Anderson
Endless Summer
Field Guide Designs
Fishaye Trading
Karen Savory
Lake Art
Lakebound
Marty Mummert
Mason Maloof Designs
Monte Dolack
Nancy Seiler
Shelle Lindholm
West Mountain Drifters

Harley-Davidson®

Pillows

Ann Guerri
Beach
Boating
Hawaii
Lake
Lodge
Shelle Lindholm Pillows
Ski
States
Western

Barrel Ends
Corrugated

Cut-Ups

Automotive
Beach/Water
Boating
Fruit
Lodge
Luggage Tags
Paddles
Pennants
Professionals
Sports
Tavern & Cafe
Western
Winter

Brick/Ghost Signs

America

Cities & Parks
Flags
National Parks
Sentimental State
State Postcards

Matchbook Signs

Bar
Beach/Pool
Boating
Businesses
Food & Drink
Golf
Hawaiiana
Holiday
Kitchen
Lodge/Fishing/Hunting
Musicians
Pets
Ski
Sports
Trains/Planes/Cars
Western
Zodiac

The Abbie

The designs are vintage and the verbiage is original!

Here at Meissenburg Designs we welcome your personalizations. Make your wood or metal sign indigenous to your area or include a family or friend's name. Our new and improved pigments hold up to sunlight. Make any and each sign your own!
All other "similar" signs in the market-place are manufactured by copycats. Order from the original!
The History of Meissenburg Designs
Loyd and Laura have been in the sign business since the 1980s. Their first signs were pub style signs. These were screen-printed with an attached two dimensional resin casted piece (i.e. ducks, figures, wildlife, etc). Resin signs (a cast sign, made to resemble wood) came next. At the time, resin signs were touted as being able to "hold up" outside. They may have endured in other climates, but they cracked in Montana. After much tinkering, Loyd came up with fillers so the resin could expand and the first genuine outdoor casted sign was created. The Meissenburgs employed a young local sculptor, Eric Thorsen (Thorsen Gallery) and manufactured these signs until the resin-casting business was transferred to Marc and Eric Pierce at Big Sky Carvers.
Conceptualizing yet another product, Loyd started creating the "wood slat-board" signs for Laura's gift shop, Electric Avenue Gifts. By using printing machinery crudely retrofitted to paint on wood, Loyd began producing ski signs promoting the local ski hill, Big Mountain. From his vast collection of ephemera, Loyd originated and introduced vintage-resort signs to a receptive market. These signs were not fade-resistant and were a major manufacturing headache, but they sold like crazy. Big Sky Carvers began selling this new type of sign and they were the sole distributor of Meissenburg Designs for many years.
When Big Sky Carvers changed hands, Loyd and Laura made the decision to sell the signs themselves. New, updated equipment was finally available and allowed Meissenburg to make the signs fade-resistant. The line expanded rapidly to include tavern, western, water-skiing and many other previously unexplored categories.
With advances in technology, we were able to produce clearer images in a more efficient manner. The team grew to 33 employees, including five talented designers. The business continues to prosper in the most beautiful place on earth, Northwest Montana. Our products are completely U.S.A. made!
Sign-Makers and Sellers - One and All!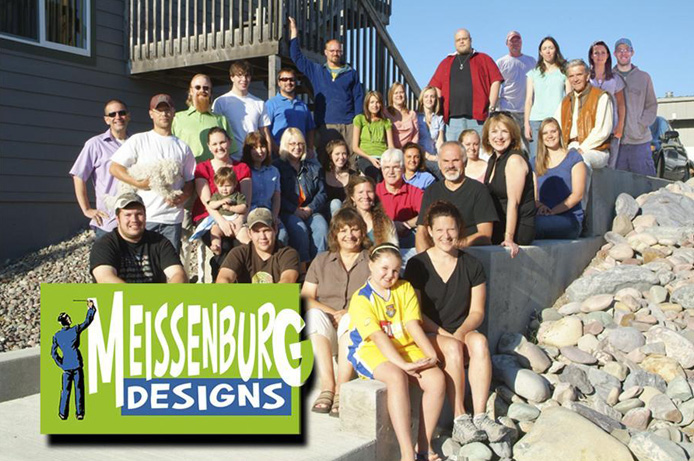 100% USA MADE ~ Always Will Be!
Loyd and Laura, Boating on the Flathead River, Montana
Product Line Introductions
- In January of 2008, Meissenburg Designs introduced a series of two dimensional signs known as "Loyd's Cut-Ups".
- In 2009, Big Sky Carvers and Meissenburg jointly designed a line of furniture sold exclusively through Big Sky Carvers/Demdaco. New personalized frames were introduced at the 2009 gift shows.
- In 2010, retro vinyl pillows (indoor/outdoor) were presented and wonderfully received! Joel Anderson (Anderson Design Group) came onboard with his line of classic travel designs, aptly titled, the Art & Soul of America.
- At the start of 2011, a new relationship between Marty Mummert (Mummert Studios) and the Meissenburgs began. Marty's old-style hand-lettered signs have created a whole new dimension to what Meissenburg has to offer.
- Earlier this year, we introduced a new line of corrugated metal signs, which resemble nostalgic, hand-painted advertisements. These new metal signs are fade-resistant and perfect for outdoor use. In 2012, Meissenburg also partnered with contemporary wildlife artist, Shelle Lindholm. Shelle's reproductions are featured on a new type of wall hanging termed, Boxed Metal Wall Art.
Loyd and Laura are constantly challenging themselves, adding new ideas to their line and bringing innovative ideas to the gift, surf, liquor, automotive and furniture industry. We truly appreciate your business and thanks for stopping by! - Loyd & Laura